According to Cisco, online video will account for 79% of internet traffic this year. YouTube is responsible for more than one-third of mobile internet traffic.
If you don't already know, YouTube is the world's second-largest search engine. Among millennials, YouTube accounts for 67% of online video consumption.
What about in Malaysia's context? Here are the 10 interesting YouTube facts you might want to know.
1. YouTube is the 2nd largest social media in Malaysia with 20M users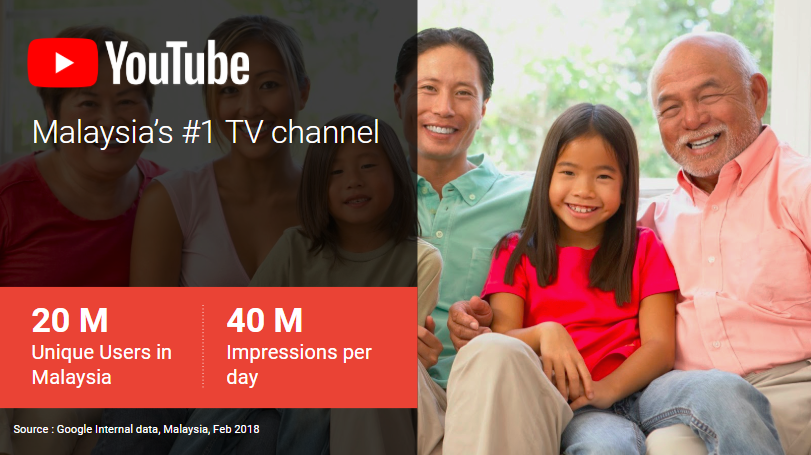 Yes, YouTube with 20M users is more popular than Instagram, and not far behind Facebook in Malaysia. Find out the top 5 social media platforms in Malaysia here.
2. 90% of Internet users aged 18+ in Malaysia watch YouTube videos

While Facebook is not super appealing to youngsters, YouTube is favoured together with other platforms like Instagram and TikTok. Don't believe it? Just look at the youngsters and kids around you.
3. TV is the fastest-growing screen in Malaysia with 60% watch time growth YoY

With the popularity of Internet TV, many are getting used to the habit of watching YouTube on a bigger screen, while holding another smaller screen (so busy eh).
4. 80% of views on YouTube in Malaysia are outside of 8-10pm prime time

In contrary to the 8-10pm prime time (or family time) of TV programmes, YouTube has enabled "personal primetime" by watching anywhere, anytime, with any screen you like.
5. 7 out of the top 10 YouTube channels watched by Malaysians are local channels

Netflix might be monopolized by foreign content (especially Korean) now, local YouTube channels and contents are actually quite popular among Malaysians.
6. Music, Food, Beauty, Gaming categories are growing fast in Malaysia

As expected, music, food (think recipe), beauty (think make-up) and interestingly gaming are the fastest-growing categories for YouTube channels here.
7. There are 36 YouTube Gold Creators in Malaysia as of 2019 (only 3 in 2016)

From 3 in 2016, there are 36 YouTube Gold Creators in Malaysia by the end of 2019. Here is the list of YouTube channels in Malaysia with more than 1M subscribers.
8. Upin & Ipin is the top YouTube channel in Malaysia with the most subscribers

Topping the list of Gold Creators in Malaysia is none other than Les Cospaque Production, the creator of Upin & Ipin. Other animations like Monsta, Didi & Friends etc. are the front-runners too.
9. Namewee is the personality with the most YouTube subscribers in Malaysia

While Namewee is ranked #9 in the Gold Creators chart, he is the local personality who has the most YouTube subscribers, followed closely by Alieff Irfan.
10. KFC is the brand with the most YouTube subscribers in Malaysia

On the commercial front, KFC beats McDonalds to the crown in the top 20 YouTube channels by brands in Malaysia ranked by number of subscribers.
Further read on tips and guide for your YouTube Channel: