In the past (pre-Internet era), videos were produced professionally for mostly television be it TV shows or commercials. The video aspect ratio back then is pretty straightforward, it's just landscape.
Nowadays, anyone can produce a video with either professional equipment or just a mobile phone. People are also consuming videos via various media platforms and devices.
Be it for the usual content or video commercial, you need to consider which aspect ratio to go for. Will it be square, landscape, or vertical? This is a decision you need to make before producing a video.
The question you need to ask yourself is, which platform do you want to optimize your video for? Will it be YouTube, Facebook, or Instagram?
Read on as we visualize in the infographic below how your video will appear across different platforms on mobile when held vertically or horizontally.
The reason why we show mobile-only here as most people are watching videos on mobile nowadays, more than computers or even TVs. Unless it's for other purposes like cinema video ads, your video strategy needs to be mobile-first too.
Video Aspect Ratio: Square vs Landscape vs Vertical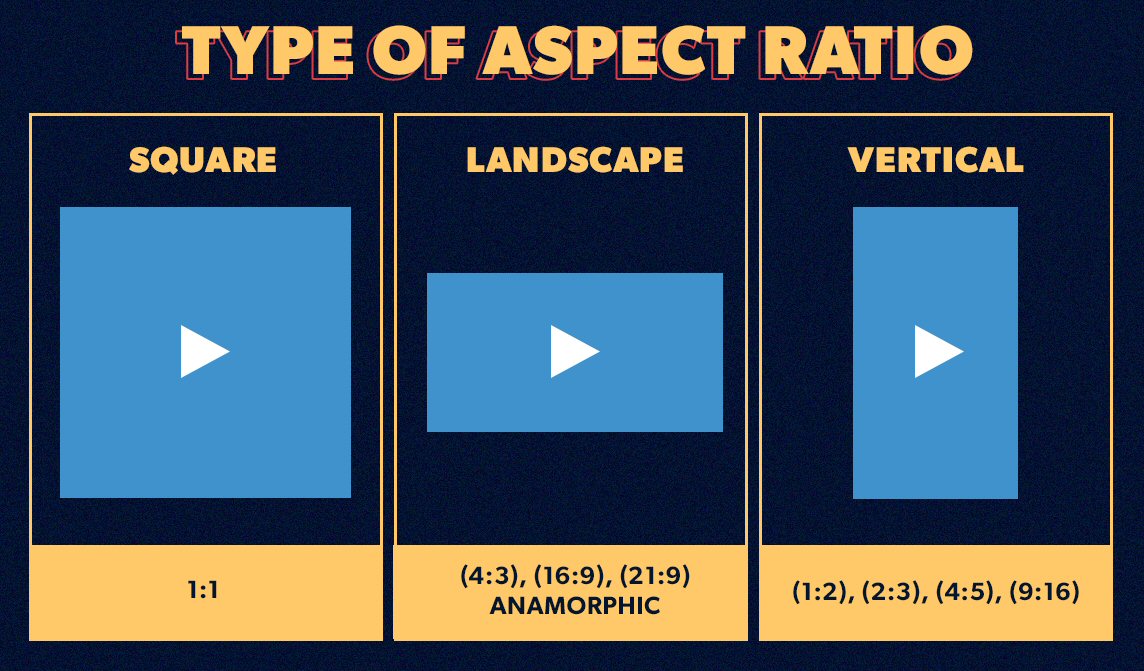 For a start, you need to differentiate the types of video aspect ratio:
Square – 1:1
Landscape – 4:3, 16:9, 21:9 (Anamorphic)
Vertical – 1:2, 2:3, 4:5, 9:16
While the vertical ratio is considered a relatively new format with the emergence of smartphones, the square ratio is made popular by Facebook and Instagram platforms.
Let's dive in a bit more on the landscape ratio:
4:3 is the old-school standard for most films made before the 1950s
16:9 is the widescreen format initially for HDTV then for most devices
21:9 is also known as anamorphic used in movies by filmmakers shooting on digital
Best Video Aspect Ratio for YouTube on Mobile
As opposed to Facebook or Instagram, landscape videos provide the best experience on YouTube even though vertical videos are supported now (since 2018).
| YouTube on Mobile | Square | Landscape | Vertical |
| --- | --- | --- | --- |
| Held Vertically | Still OK | | Not so OK |
| Held Horizontally | Still OK | | Not so OK |
Best Video Aspect Ratio for Facebook on Mobile
Facebook is one of the main reasons why square videos, followed by vertical videos, are becoming a popular aspect ratio. This is especially true as most people hold and use their mobile vertically.
| Facebook on Mobile | Square | Landscape | Vertical |
| --- | --- | --- | --- |
| Held Vertically | | Still OK | |
| Held Horizontally | Still OK | | Not Available |
Best Video Aspect Ratio for Instagram on Mobile
Similar to Facebook, square and vertical videos provide the best experience on Instagram. Do take note that you need to develop only vertical video if it's for IGTV.
Latest updates as of May 2019
: Instagram is now supporting landscape video for IGTV, which is good news for content creators. It is too demanding for content creators to produce a vertical version dedicated to IGTV without a monetization scheme (yet) like YouTube.
| Instagram on Mobile | Square | Landscape | Vertical |
| --- | --- | --- | --- |
| Standard Post | | Still OK | |
| IGTV (Held Vertically) | Still OK * | Still OK | |
| IGTV (Held Horizontally) | Not OK | | Not OK |
* We have experience publishing square videos on IGTV, the left and right sides seem to be cut off mysteriously even though we uploaded the correct size.
In conclusion, the landscape ratio is your first choice if you are prioritizing YouTube. It's either square or vertical ratio if you want to fit your video on Facebook or Instagram.
There is neither one size fits all, nor kill two birds with one stone. However, our first choice is to develop landscape videos that will fit in most scenarios, no matter how hard Facebook or Instagram is championing square and vertical videos.
You can also view the full infographic in Pin here.