Influencer marketing is undeniably growing in popularity among brands over the years. Their ability to connect and engage with fans at a personal level is a lucrative alternative to advertising for brands.
When we think of influencers, social media stars or mini-celebrities on Instagram comes to mind. However, an influencer is more than just skin-deep superficial good-looking men and women with a penchant for photography.
Industry leaders in their own fields are influencers in their own right. They can help brands reach out to an audience that traditional channels may not be able to in the age of social media.
Are you planning to start an influencer campaign? Follow our simple step-by-step guide and create an effective influencer marketing plan today!
Here is the breakdown of the steps below.
Step 1 – Identify your campaign goals
Step 2 – Identify the most suitable influencers for your brand
Step 3 – Determine the scope of work
Step 4 – Going live with the campaign
Step 5 – Reporting and follow-up
Example of a successful campaign
Things to note
1. Identify your campaign goals
Define your campaign objective
Are you aiming for brand awareness, sales or app downloads?
A general rule of thumb is that macro influencers are great for brand awareness, while micro-influencers may yield higher engagements as they have a more personal touch with their fans.
It is also possible to have a mix of macro and micro-influencers in 1 campaign.
This is no magic formula and just a rough guide – at the end of the day, how effective or relevant an influencer is highly individual.
Define your budget and campaign duration
Bigger budgets are required for more popular influencers and longer campaigns. Cost also varies according to the posting platform and format.
Depending on your budget, you can decide on:
Number of influencers to recruit
Number of followers per influencer
Number and frequency of postings per influencer
2. Identify the most suitable influencers for your brand
A suitable target audience
Make sure your influencer's followers match your target audience demographic.
Consider their audience's age, race, gender and interests and if they are in line with who you want to reach.
Authenticity – Watch out for fake followers!
In the competitive social media world, we've all heard of unethical influencers purchasing fake followers to fool unsuspecting brands. Don't potentially lose your budget to phantom users!
Do a check of the influencer's followers and engagement ratio. If the former seems disproportionately higher than the latter, there's a good chance they might be frauds.
Relevancy
Relevancy is how well an influencer's social media content fits with your brand image. You don't want to be getting a teenager to promote baby care products, for instance!
Take the time to research on your influencer's past postings, both paid and unpaid to see if they are a good fit for you.
3. Determine the scope of work
Posting platform and format
Instagram, YouTube, or Facebook?
Ultimately, you'd want influencers to post where most of their audiences are at. Generally, influencers in Malaysia are most active on Instagram.
The posting formats on popular platforms are:

* Varying charges may apply for each format. Videos are typically more expensive than photos.
Posting direction
The best paid posts are those which strike a balance between a clear branding message and the influencer's authentic voice, without sounding overly hard sell.
Some commonly-used influencer post ideas are
Product reviews
Product giveaway contests
YouTube/IG tutorial of your product
Giving out coupon codes to encourage fans to try your app/ service
Tips: Get your influencers to tag your page and/or create a unique campaign hashtag for added exposure!
Some of the post examples:

Kate product review by @qihui0716

Tiktok YouTube Tutorial by @soimjenn
4. Going live with the campaign
Posting time
You can choose the time for your influencers to post, or leave it up to them to choose their own optimal posting times.
Always double-check!
As human error can occur, make sure you double-check your influencer's postings once they are up (or if they are even up at all!) for caption mistakes and so on.
5. Reporting and follow up
How do we measure the results of influencer campaigns?
Tracking conversions is only possible if you provide your influencers with a unique URL or promo code.
If sales is not your campaign goal, here are a few metrics you can look at:
Number of impressions
Number and cost per engagement
Number of likes & comments in comparison with non-sponsored posts
Number of campaign hashtags used by non-influencers
Increase in profile visits during the campaign (can be attributed to tags in influencer posts)
Example of a successful campaign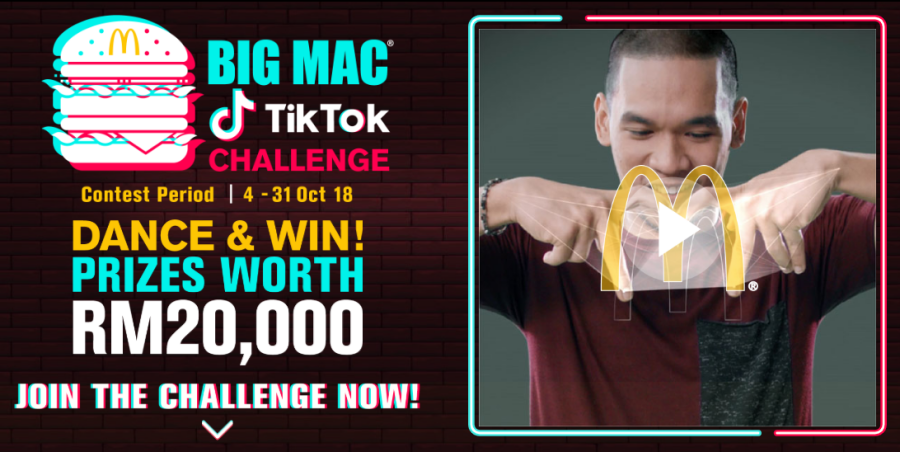 Mcdonald's Malaysia recently harnessed the power of social media in their BigMac TikTok Challenge.
They kicked off the campaign with influencer posts, who challenged their fans to join the competition where they could win up to RM20,000 worth of prizes.

Participants were required to download the TikTok app, post their video with the hashtag #BigMacTikTok and share it on social media.
This campaign resulted in an overwhelming response and successfully boosted McDonald's brand awareness as well as TikTok's app downloads.
Read our analysis of the campaign: A closer look at McDonald's TikTok campaign #BigMacTikTok
Things to note
It's important to determine the scope of work for influencers, as they may have extra charges for these services:
Exclusivity – a premium is imposed when you want to tie down an influencer to your brand, sort of like a short-term ambassador (used when you don't want competitors to use the same influencer).
Media usage – using the posts for other channels (such as on your Facebook page).
Advertising – using their posts to be featured as an advertisement (such as a billboard ad).