Besides the top social media platforms in Malaysia, there is a popular short video app that marketers should be aware of – Douyin (抖音), or TikTok as known globally outside of China.
TikTok has become hugely popular among youngsters, a platform where users can watch and produce quick videos, aided by music, stickers, animation as effects.
In Malaysia, local influencers have been spotted promoting TikTok this year. Interestingly, we are also witnessing McDonald's being one of the first brands in Malaysia (besides Shopee) to officially collaborate with TikTok via the #BigMacTikTok challenge.
Head over to McDonald's microsite to check the contest details. In short, participants are required to shoot and share videos of them dancing to specific Big Mac tunes using TikTok.
Don't worry if the URL above is no longer available as we have captured a couple of screenshots and information below. Hopefully, this can serve as a guideline or idea for brands to explore TikTok as a marketing channel in the near future.
What are the #BigMacTikTok challenge prizes?

There are prizes worth RM20,000 in total:
Grand Prize: RM5,000 cash
2nd Prize: RM3,000 cash
3rd Prize: RM2,000 cash
Special Prizes x 5: RM1,000 cash each

Best Solo x 1
Best Group x 1
Most Creative x 1
The Funniest x 1
Judge's Favourite x 1

Consolation Prizes x 50: RM100 McDonald's Voucher each
The best part is, everyone is a winner with 1 free Big Mac with every valid entry.
How to join the #BigMacTikTok challenge?

If you refer to the screenshot above, there are a total of 15 steps listed on McDonald's website!
However, this is a comprehensive step-by-step guide for users who are new to TikTok.

For those who are already using TikTok, the guideline is simpler:
Select your preferred Big Mac song
Record a TikTok video of you dancing to the Big Mac Chant
Post it on your TikTok and IG/FB with the hashtag #BigMacTikTok
Make sure your accounts are set to "Public"
Copy the video link and submit your entry(ies) on the McDonald's App
Stay tuned for a verification email within 3 business days
#BigMacTikTok challenge banner spotted in TikTok app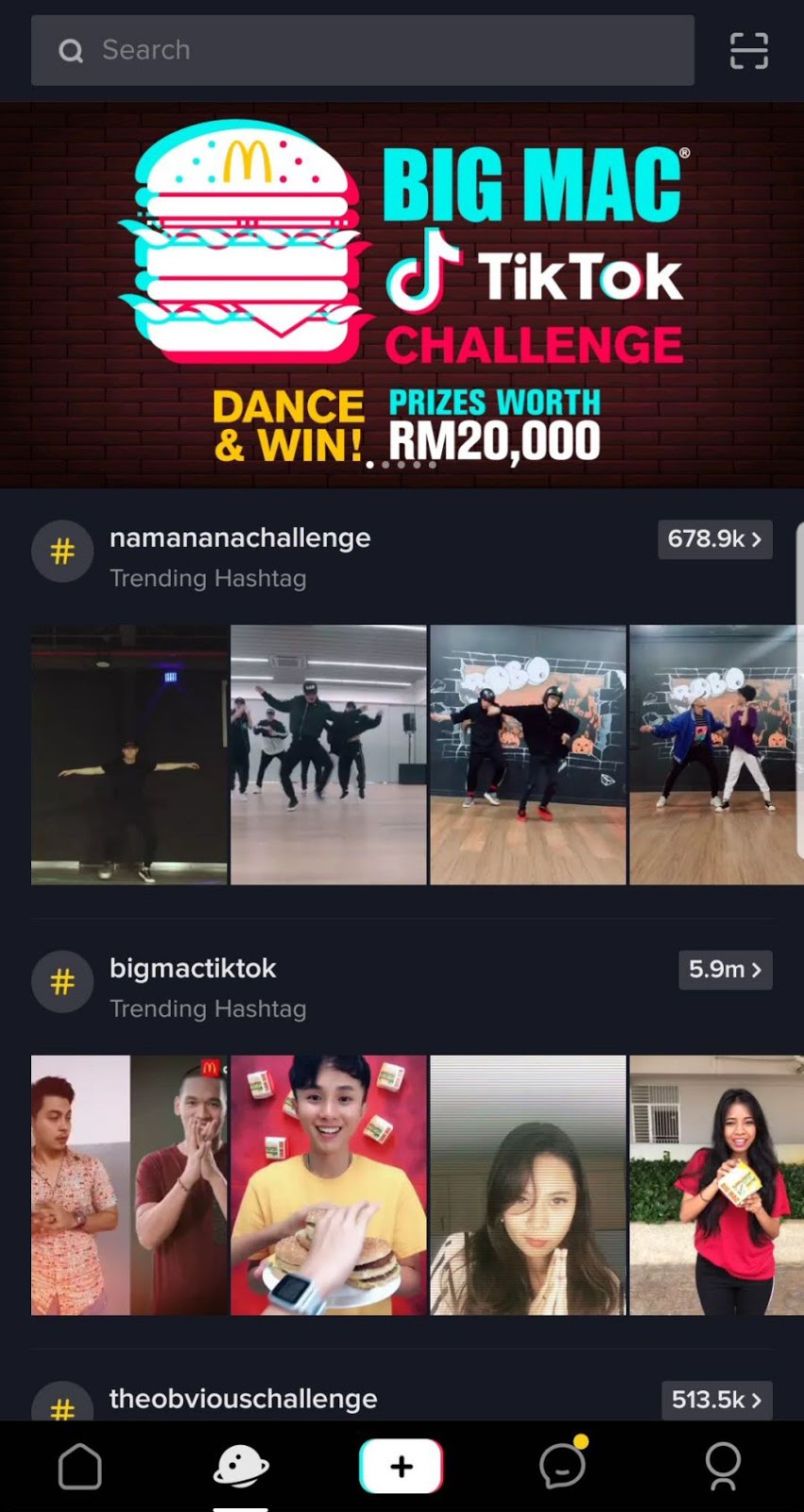 As you can see above, the #BigMacTikTok challenge banner is spotted under the search / explore tab of TikTok app. This is highlighted to all Malaysian users as TikTok is showing content based on the user's country location.
As opposed to YouTube Masthead (Google's version of the digital billboard) which advertisers can pay and book, this is a prime inventory limited to collaborating brand partners for now.
If you look closer at the #BigMacTikTok trending hashtag section above, there is a whopping 5.9M counter spotted. While we are not too sure what it means but our best guess would be the number of views accumulated under this hashtag.
Whatever it is, there is a massive brand engagement created for McDonald's.
#BigMacTikTok challenge participating videos

In order to view the participating videos, you can click on the #BigMacTikTok hashtag and the videos will be listed like above.
You can sort the video by "Hot" (most popular) or "Time" (most recent). Without using the app, you can also browse the Instagram hashtag and watch some of the participant's videos.
There are a total of 306 Instagram posts tagged with the #BigMacTikTok hashtag at the time of writing, with 2 more days to go before the contest ends.
Let's investigate further in the next section on the number of entries.
How to post a video & select #BigMacTikTok sound?

In case you didn't know, every TikTok video must go along with a catchy tune! Tap on "Pick a sound" when you are ready to record a new video, and a screen like the above will be shown.
You can start by choosing from a list of #BigMacTikTok sounds available. If you can't see these, just tap on "Challenge" to filter the sound list.
The song library can't be bought and seeded by the advertisers, similar to the banner we explained earlier, it seems to be only available to collaborating brand partners at the moment.
On another note, if you pay attention to the "number of times used" under each sound, we can estimate a total of (677+140+97+161+72=) 1,147 entries at the time of writing (on 29 Oct).
How to submit a #BigMacTikTok entry?

After shooting the catchy video, users are required to submit their entries via the McDonald's mobile app, web browser submission is not made available though.
This is somehow tedious but obviously, McDonald's intends to boost its mobile app installs and usage from this campaign.
Brands and TikTok are both winners (双赢)
Besides driving its mobile app usage, McDonald's reap great benefits from this campaign by getting so many youngsters to dance to its Big Mac tune, the type of engagement you can only get via short video apps like TikTok.
This is also a win for TikTok by collaborating with massive consumer brands like McDonald's, to acquire new users at the same time boost app usage here.