We shared our analysis of the top instant messaging apps in Malaysia about three years ago. Back then, the most popular messaging apps being used here are WhatsApp, WeChat, FB Messenger, and LINE.
However, the Internet is a very volatile place and trends change pretty fast. Three years is a long time on the Internet. There is an obvious name missing from the list earlier – Telegram.
If you haven't got Telegram installed yet, try installing it and syncing with your contacts. Check how many of your contacts are already on Telegram.
In this article, we are going to investigate how popular is Telegram in the world, and in which parts of the world, followed by its popularity in Malaysia.
Telegram is the 3rd most used messaging app worldwide
We Are Social x Hootsuite has reported the world's most-used social platforms in January 2021 that Facebook and YouTube, as expected, are the most popular social media platforms in the world.
If we filter the chart below to only instant messaging apps, WhatsApp with 2 billion active users and Facebook Messager (1.3 billion active users) are the obvious leaders.

Excluding WeChat and QQ which are predominantly used in China, Telegram with 500 million active users is the third most popular instant messaging app in the world now!
Yes, that's right – WhatsApp, Facebook Messenger, and Telegram are the top three chat apps globally.
Do take note though that the chart above is not an apple to apple comparison. While messaging apps usually measure app downloads, registered users, and more importantly monthly / daily active users (DAU / MAU), the chart above is not using a standard metric to compare all platforms.
What we can be sure of is that Telegram has 500 million monthly active users (MAU), as announced by the founder of Telegram via his Telegram channel:
In the first week of January 2021, Telegram surpassed 500 million monthly active users. After that it kept growing: 25 million new users joined Telegram in the last 72 hours alone. These new users came from across the globe – 38% from Asia, 27% from Europe, 21% from Latin America and 8% from MENA.
While America is not mentioned in his update above, it is interesting to note that Telegram enjoys strong growth in Asia.
In which countries is Telegram popular?
Telegram is legally registered in the British Virgin Islands, founded by Russian-born Pavel Durov – now a citizen of Saint Kitts and Nevis. Read Pavel Durov's story to know more about him and how Telegram was started.
So, which countries are using Telegram more? Let's refer to the messaging apps world map by SimilarWeb and focus on those highlighted in pastel red below.

Besides WhatsApp and Facebook Messenger, Telegram is the only other messaging app to dominate three or more countries, showing strong popularity in 11 places overall including Armenia, Egypt, Lithuania, and Venezuela.
Most of the other messaging apps are only popular in less than three, or a single country. For example, LINE in Japan, KakaoTalk in South Korea.
Let's take a look at another report quoting App Annie, on how Telegram ranks in the App Store under the "social networking" category by selected countries below.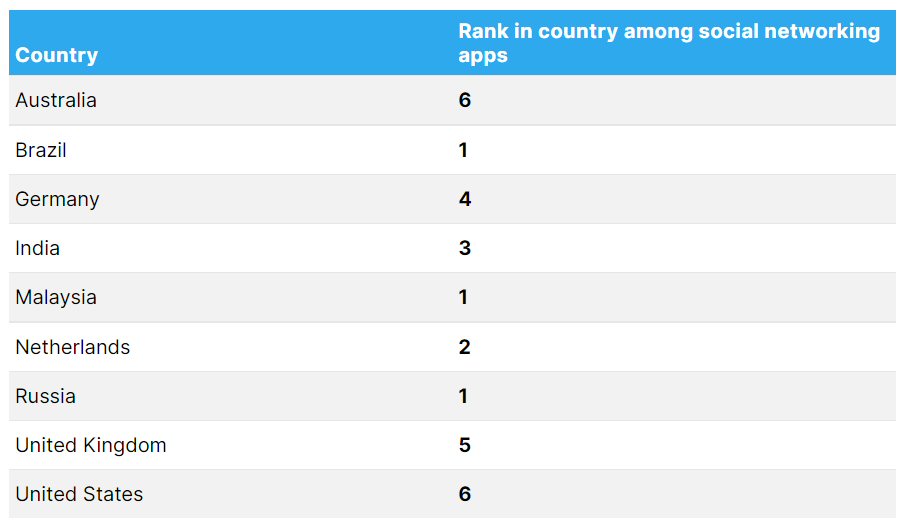 Besides the countries mentioned earlier, Telegram is also popular in Russia, Brazil, and Malaysia!
In fact, Telegram was the most downloaded non-gaming app worldwide in January 2021 as reported by Sensor Tower – ranked 1st in Google Play and 4th in App Store respectively.
How many Telegram users in Malaysia?
From the same report by Sensor Tower earlier, the telegram app is downloaded 6.3 million times a month in Malaysia, which represents 10% of the monthly worldwide share.
Think about this, 6.3 million downloads in January 2021 alone is close to 20% population in Malaysia!
Let's take a look at another piece of proof that Telegram is popular in Malaysia by referring to the top communication apps ranking on Google Play Store by SimilarWeb (as of 28 August 2021).

At the time of writing, Telegram is competing closely with WhatsApp for the top spot in the month of August 2021. In terms of usage rank, Telegram is ranked right behind WhatsApp and Facebook Messenger in Malaysia.
You can check the latest ranking on Google Play Store and Apple App Store.
On a side note, there are quite a couple of government leaders around the world who are already using Telegram channels, including
Tsai Ing-wen
(Taiwan) and
Lee Hsien Loong
(Singapore).
Question, who is the most popular Malaysian politician on social media? Bring on
Najib Razak
, he has more than 70,000 subscribers on Telegram at the time of writing.
While we don't have a finite number of the total Telegram users in Malaysia, we can safely assume that Telegram is now one of the top three chat apps in Malaysia alongside WhatsApp and Facebook Messenger.
In fact, if you take a look at the past data, Telegram has been averaging a yearly growth rate of more than 40% since its launch in 2013.
The potential of Telegram is great so can brands and marketers use Telegram as a marketing platform? Check out our Telegram content series below!