Before we zoom in on Malaysia, let's check out the top messenger apps by country reported by SimilarWeb as of December 2017 (on Android only).
From the 188 countries sampled:
WhatsApp is #1 in 104 countries
Facebook Messenger is #1 in 64 countries
Viber Messenger is #1 in 10 countries
LINE is #1 in 2 countries (Japan & Thailand)
WeChat is #1 in 1 country (China)
If you look at the world map illustrated by MessengerPeople, pay attention to WhatsApp's green and Facebook's blue, it seems like the world domination of messenger apps by Facebook (as Facebook owns WhatsApp).

By referring to the map above, Viber conquers 10 European countries whereas LINE and WeChat are only dominant in 3 countries combined.
So, is Viber the world's no 3 after WhatsApp and Facebook Messenger?
Not really, if we refer to Statista from another data perspective. Check the chart below on top mobile messaging apps worldwide, based on the number of monthly active users.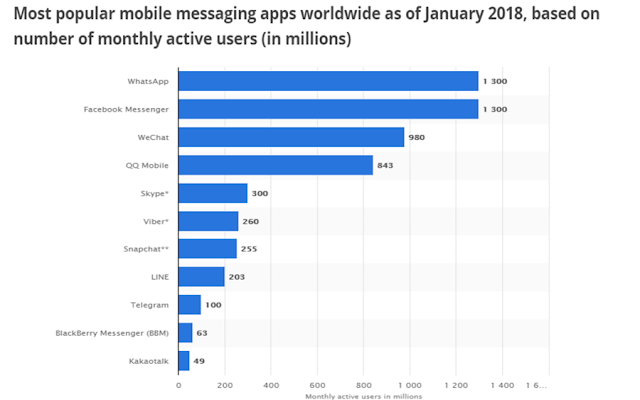 If we rank by the number of users, WeChat is the world's no 3 after the big two, and QQ Mobile ranks 4th right after WeChat. As both apps are only mainstream in China, the users are mainly contributed by its 1.4B population.
On the contrary, LINE ranks 8th in the world, after the likes of Skype, Viber, and Snapchat. Completing the top 10 chat apps list are Telegram and BlackBerry Messenger (BBM).
What about Malaysia? Let's revisit this chart we used for the top 5 social media platforms in Malaysia earlier.

Setting aside the social media platforms, the following are the top chat apps in Malaysia if we refer to the dark orange bars above:
WhatsApp
FB Messenger
WeChat
Skype (really?)
LINE
However, the chart reported by We Are Social above is based on survey-based data, not by the number of app installs or active users.
So, let's find out which are the top messenger apps in Malaysia measured by the number of users. This is not a straightforward research as most of the popular chat apps don't release their active users count to the public.
How many WhatsApp users in Malaysia?

There is an interesting chart reported by Statista (see above) on a list of countries ranked by WhatsApp penetration (% of the population).
Guess what? Malaysia ranks #2 in the world just behind Saudi Arabia! On a side note, did you also know that Malaysia is one of the top 5 countries with Waze users?
With 68% penetration, there are around 21M WhatsApp users in Malaysia. You can also read another report here on how popular WhatsApp is in Malaysia as a source of news.
How many FB Messenger users in Malaysia?

There aren't many statistics available in regard to FB Messenger so let's first refer to the chart above.
There is a ratio of 1.2B FB Messenger to 2B Facebook users, which means around 60% of Facebook users do actually use FB Messenger.
With 23M Facebook users in Malaysia, we can estimate 60% or 13.8M of FB Messenger users here.
Let's try another angle by using Facebook Ads Manager by limiting the placements to Messenger only.

By looking at the potential reach shown above, there are 12M FB Messenger users in Malaysia.
How many WeChat users in Malaysia?

Prior to the WeChat Pay launch in Malaysia, a senior VP of Tencent claimed that there are 20M WeChat users in Malaysia.
It is not clear though whether the number represents registered users or active users. From the chat app's point of view, active users is a very important metric and it can be measured by MAU, WAU, DAU (monthly, weekly, daily active users).
The 20M reported is not far behind WhatsApp, but the gap between the two chat apps might be wider if we compare by active users.
How many LINE users in Malaysia?

According to an announcement by LINE Malaysia back in 2014, there were 10M LINE users in Malaysia back then.
However, there isn't any official update since then. Similar to WeChat's announcement, it is not clear whether the total represents registered or active users.
The top 4 chat apps in Malaysia
Without any data source on Skype, or even Telegram and Viber, we can only conclude the top 4 mobile messenger apps here as below:
WhatsApp – 21M users
WeChat – 20M users
FB Messenger – 12M users
LINE – 10M users
Updates: MCMC has released the Internet Users Survey 2018
Refer below for the top 7 communication app in Malaysia. This MCMC report can be a better benchmark as it is reflecting what kind of app Malaysians own and install currently.
WhatsApp is still the dominant leader followed by FB Messenger instead of WeChat. Telegram is surprisingly popular with 25% of respondents owning an account, while LINE and KakaoTalk are dropping off the pace.
1. WhatsApp – 98.1%
2. FB Messenger – 55.6%
3. WeChat – 36.8%
4. Telegram – 25.0%
5. Skype – 14.2%
6. LINE – 10.2%
7. KakaoTalk – 2.1%
WeChat functions like a swiss-knife app in China, where you can use it for basically everything from chatting, booking a taxi to making payments.
LINE is trying to emulate this in markets like Japan, Taiwan, Thailand and Indonesia, to become the app for users to use for almost everything and every time.
From a business or marketer's perspective, both WeChat and LINE also offer business or marketing solutions like Official Accounts, for businesses to reach out to their customers.
By contrast, WhatsApp is still pretty ad-free for now, staying true to its origin by being a simple messaging app for users.
Perhaps coinciding with its founders leaving Facebook, WhatsApp is rolling out some marketing features to selected brands. Will it replace SMS marketing in the future? Time will tell.