With 4M TikTok users in Malaysia, it is becoming a new platform option for brands and advertisers to reach out to consumers.
So what is TikTok actually? It's an app users can download for free and follow any trendy hashtags with specified music. Some of these hashtags involve different actions such as dancing, lipsyncing and the latest called acting.
Sounds trendy, doesn't it? It's time for you to hop on the bandwagon because even Guardian collaborated with TikTok for their "Shop Your Way to Korea" campaign.
From our observations, Guardian is the third brand to collaborate with TikTok in Malaysia, after Shopee and McDonald's #BigMacTikTok campaign.
You can watch Guardian's campaign intro video below:

Video source: Guardian FB Page
Anyone can join the challenge by just submitting their own dance to Guardian's official song using the TikTok app.
With just their submission, they're automatically in the running for Guardian's amazing prizes. You can head over to Guardian's microsite to look at the contest details, or continue reading for more information *wink*.
What are the #GuardianTikTokChallenge prizes?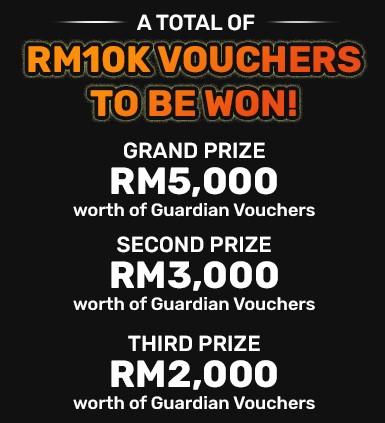 In order to entice users to take part in the campaign, a cash incentive of RM10,000 (in terms of Guardian cash vouchers) can be won in these tiers:
Grand prize: RM5,000
Second prize: RM3,000
Third prize: RM2,000
How to participate in #GuardianTikTokChallenge?
Their microsite has detailed instructions, which is similar to McDonald's. There is a total of 9 steps which may sound a little tedious but they're actually easy to follow, as you can see below.
#GuardianTikTokChallenge submissions
Even though Guardian does not have a challenge banner featured on TikTok like McDonald's, they still managed to garner an accumulated 4.5 million views to date (as of 28 December 2018).
Check out the screenshot below:

This video platform is definitely something different from YouTube and Facebook, with an appeal to the younger audience!