Did you know that you are required to apply for a permit from CAAM (Civil Aviation Authority of Malaysia) before flying any drone or UAS (Unmanned Aircraft System) in Malaysia?
CAAM has recently published a kind reminder on its Facebook page to drone enthusiasts and video production companies that a permit is required before you go flying.
While it is not explicitly stated, it seems that application is required whether you are flying for fun (hobbyist) or to produce commercial works.
Here's the summary of what you need to know:
Apply for permit 14 days before you plan to fly your drone.
Pay RM250 application fees for a small drone weighing below 20kg.
Pay RM1,000 application fees for a drone that weighs more than 20kg.
A drone of more than 20kg is required to be registered.
Take note that any violations of the UAS regulations are subject to the penalty below:
For individuals: Fine not exceeding RM50,000 or imprisonment not exceeding 3 years, or both.
For companies: Fine not exceeding RM1,000,000.
While it is unclear how long is the validity of the permit, a commentator on the CAAM Facebook post mentioned that it will be valid for 3 months only.
How to apply CAAM permit to fly the drone?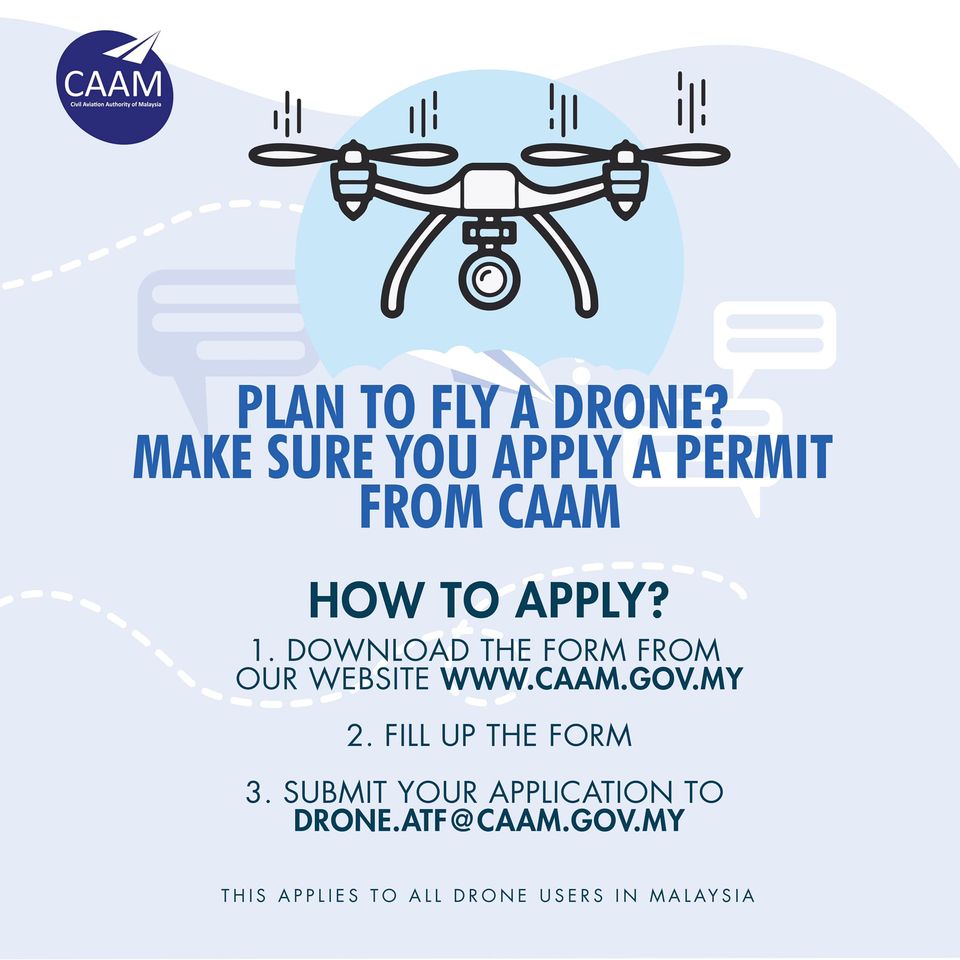 Step 1. Download the application form on the CAAM website.
Step 2. Fill up the application form and prepare supporting documents.
Step 3. Send the form and documents to [email protected].
The permit will be issued upon the submission of complete documents and payment.
Do take note that the application form is quite lengthy and technical, from personal particulars, remote pilot details, UAS / drone specifications, risk assessment, to flight planning of the operation area.
There is a long list of documents to submit too:
Accountable Manager Details: IC / Passport, Company Registration Certificate
SIRIM Approval / Certificate
MCMC Approval / Certificate1 (if applicable)
JUPEM Approval (if required)
Appointment Letter, undertaking the company for the said task.
Pilot: Competency Evidence (if applicable); and IC / Passport
.kml or .kmz file (Google Earth)
UAS User Manual / Specifications Brochure.
That's what you need to do to avoid being fined up to RM50,000 (for individuals) or RM1,000,000 (for companies) so fly safe!