We have Mickey Mouse from the United States, Hello Kitty from Japan, Pororo from South Korea, Old Master Q (老夫子) from Hong Kong – so which popular characters are born in Malaysia?
Not many will argue that Upin & Ipin is the iconic character made in Malaysia, the twin brothers started as a TV animated series and expanded regionally via Disney Channel Asia.
It will be a crime if we don't include Kampung Boy here, the granddaddy of famous characters started by the legendary Lat 40 years ago!
While comics and TV are the only platforms back then, illustrators and animators can now distribute their content on Internet platforms like Facebook, YouTube or even OTT like Netflix.
Did you know that there are at least 3 locally-made animations that actually made it to Netflix? You might not even heard of Hogie the Globehopper, Chuck Chicken or Harry & Bunnie, but they are now on international distribution via Netflix!
Producing animation videos is no longer as complicated as 10 or 20 years ago. We are seeing animations like Didi & Friends and Omar & Hana who are going strong on YouTube with around 2M subscribers each, both by the same company – Digital Durian.
Besides their presence on YouTube, characters like BoBoiBoy and Ejen Ali have also launched their full feature film so as Ge Mei Lia, which is hugely popular among the Chinese school kids here.
Most of the characters we mentioned earlier have their own brand of merchandise too. While we have another compilation of top Malaysian comic artists, this is a list of characters who many Malaysians are familiar with. Those bold characters prompt most to say "oh, I know who is this".
Without further ado, let's bring on the top 10 popular character designs in Malaysia in no particular order.
1. Upin & Ipin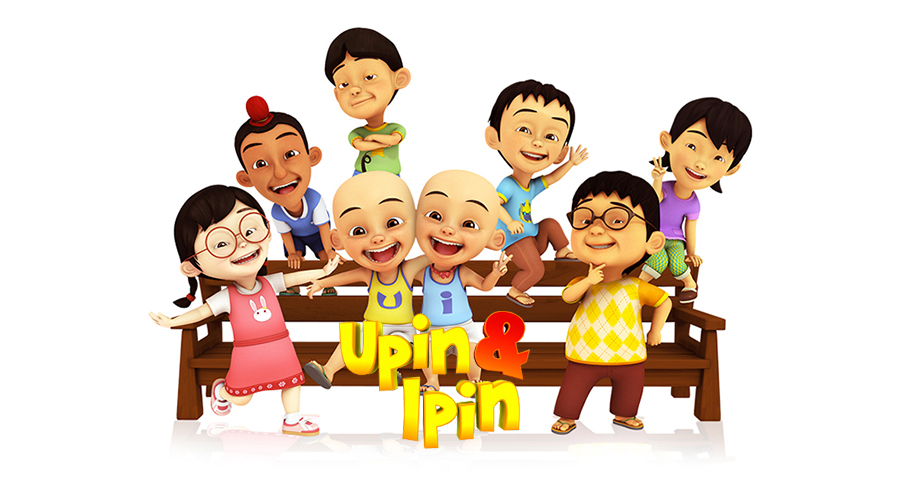 Wikipedia | YouTube | Facebook
First released in 2007
Upin & Ipin is a 2007 Malaysian television series of animated shorts produced by Les' Copaque Production, which features the life and adventures of the eponymous twin brothers in a fictional Malaysian kampung. Originally a side project for the blockbuster animated film Geng: The Adventure Begins, Upin & Ipin was introduced on TV9 on 13 September 2007 as a six episode Ramadan/Eid special, to teach children the significance of the Islamic holy month.
As of 2014, the series has reached its eighth season, including another Ramadan special season in 2008, and, season three onwards, the year-long, more general themed Upinipin and Friends, the series' international debut via the Disney Channel Asia, with more concentrating on telling the lives of The Twins with their friends on the normal days. Upin & Ipin is currently the longest-running Malaysian animated series, currently in its 11th year of producing new episodes.
2. Chuck Chicken

Wikipedia | YouTube | Facebook | Netflix
First released in 2010
Chuck Chicken (Kung Fu Chicken in China) is an animated television series created by Animasia Studio. The story takes place on a bird-filled island of Rocky Perch, which tells a story of Chuck who turns into 'Kung Fu Chicken', providing Kung Fu style security and protection to the citizens of the island. When Chuck inherits a very special amulet in the shape of a golden egg with amazing powers, he uses it to defeat evil to protect the island.
The show has 52 episodes and is in English, Bahasa Malaysia, Mandarin, Bahasa Indonesia, and Thai. Originally 52 episodes were released in 2010 with 11 minutes each for Season 1. Season 2 is currently in development. It was made possible by the funding provided by the Malaysian Government under the Ministry of Communication and Multimedia, and it took Animasia Studio approximately 18 months for production by 100 Malaysian creative talents. Netflix has also picked up the show and is now playing worldwide.
3. Harry & Bunnie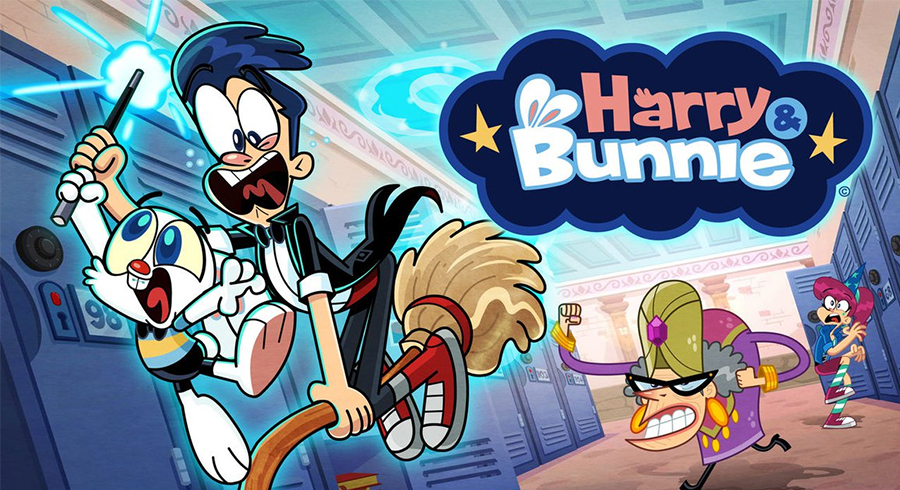 Wikipedia | Facebook | Netflix
First released in 2016
Harry & Bunnie is an animated television series created by the Malaysian-based company, Animasia Studio. It follows young wannabe magician Harry who invents magical tricks to impress his friends, but always in vain. Meanwhile, his mischievous stage rabbit Bunnie always ends up stealing the limelight with its ongoing mission to steal Harry's magic wand. Harry always creates elaborate plans to take back his wand but always fail in the end.
The show is a non-dialogue slapstick comedy with 78 episodes with all of them 7 minutes each. The show is currently showing on Disney Channel in various countries across Asia, various channels in China as well as Netflix worldwide.
4. BoBoiBoy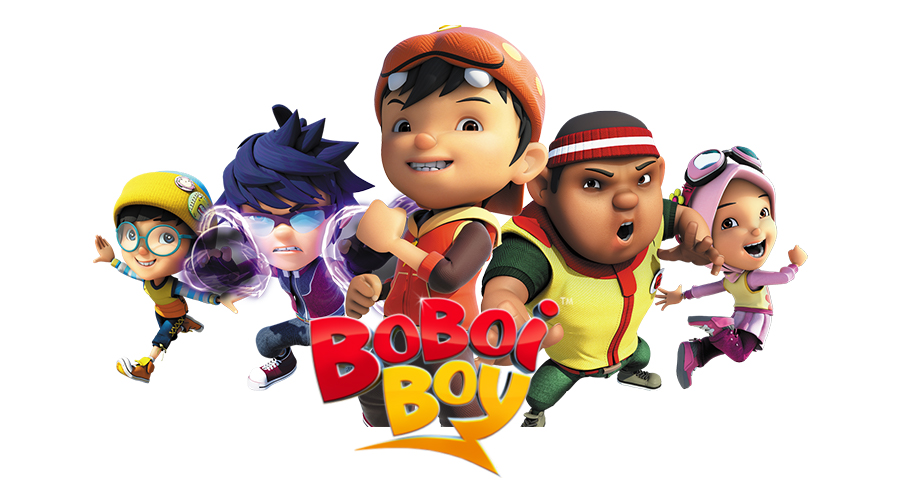 Wikipedia | YouTube | Facebook
First released in 2011
BoBoiBoy is a Malaysian animated series produced by Animonsta Studios, centering on a boy who has elemental-based superpowers and the ability to separate into three. With his friends, Ying, Hannah (Yaya in the original Malay version), Gopal, and Fang, they fight to protect the earth from alien threats who aim to conquer the Earth in the hunt for cocoa beans.
The series is published in HDTV format and broadcasts on TV3 began on 13 March 2011, on Disney Channel Asia from 11 June 2011 and on NTV7 from 24 May 2014.
5. Hogie the Globehopper
First released in 2017
Hogie the Globehopper is a fun tv series that explores the world around us through adventure and comedy. Each episode brings Hogie to a new destination where he always makes a new friend.
This Malaysian-made animation series is the first homegrown production to be featured on Netflix to be shown around the world.
6. Didi & Friends

Wikipedia | YouTube | Facebook
First released in 2014 (conceptualized in 2012)
Didi & Friends is an edutainment media for pre-school kids created by Digital Durian. This is a series of 3 young chickens namely Didi, Jojo, Nana and their friends singing kids song together. The YouTube channel is started on 15 May 2014, which has since expanded to series on TV, film, book and other formats. (translated from Wikipedia)
7. Omar & Hana
First released in 2016
Omar & Hana is Digital Durian's second animated series specially made for the young Muslim kid in mind. The songs and stories are written to educate and remind young Muslims about Islamic values and practices in a fun and interactive way.
In 2016, Omar & Hana was first produced in Malaysia. It captured the hearts of kids and parents ever since it was released on YouTube.
8. Ejen Ali

Wikipedia | YouTube | Facebook
First released in 2016
Ejen Ali (literally translated as Agent Ali), is a Malaysian animated series produced by WAU Animation, focusing on a titular boy which accidentally became a MATA agent after using Infinity Retinal Intelligent System (I.R.I.S), a device prototype created by Meta Advance Tactical Agency (M.A.T.A). I.R.I.S is controlled by neuro-signals enabling the wearer to perform actions programmed by the computer. After the incident, Ali and his uncle, Bakar cooperate in M.A.T.A missions.
The series is published in HDTV format and was first broadcast on TV3, on April 8, 2016. Ejen Ali is the first animation series as the intellectual property of Media Prima Berhad.
9. Kampung Boy

Wikipedia
First published in 1979
The Kampung Boy, also known as Lat, the Kampung Boy or simply Kampung Boy, is a graphic novel by Lat about a young boy's experience growing up in rural Perak in the 1950s. The book is an autobiographical account of the artist's life, telling of his adventures in the jungles and tin mines, his circumcision, family, and school life. It is also the basis for the eponymous animated series broadcast in 1999.
First published in 1979 by Berita Publishing, The Kampung Boy was a commercial and critical success; its first printing (of at least 60,000 copies, 16 times) was sold out within four months of its release. Narrated in English with a smattering of Malay, the work has been translated into other languages, such as Japanese and French, and sold abroad.
10. Ge Mei Lia 哥妹俩
First published in 1997(淘气哥妹俩)2003(哥妹俩)
Ge Mei Lia a.k.a. Kokko & May (previously known as Ge Mei Liang) is famously known among the Chinese audience as "哥妹俩". The publication is started by Eddie See (徐有利) back in 1997, which was initially known as "淘气哥妹俩", but has since changed its name to "哥妹俩" since 2003. The positive messages delivered in the comic is suitable for primary school students. It is still popular in Malaysia and Singapore after so many years, the comic is also available in countries like China, Taiwan and Hong Kong. (translated from Wikipedia)